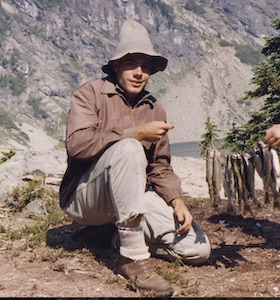 Click on this photo to see a larger version of the picture.


Robert Dennis (Denny) Hayward, April 20, 1944 -- August 14, 2023, RIP.

Denny passed away on Monday, August 14th from a rare vascular condition called Wegener's Disease, or GPA. (See Wikipedia for details.) He is survived by his wife Cheryl, his daughter Jennifer, granddaughter Amber, and brother Wes. Den was born in Denver, CO, but grew up in Richland, WA. He graduated from high school in 1962, and then from college in 1967 with double majors in business and forestry from Washington State University. He continued to obtain an MBA, also from WSU, in Wood Products Marketing. Upon graduation in 1969, he was drafted into the Army and spent two years in the Infantry. He returned to private life in 1971. He worked in the wood products industry for his entire career, with jobs in California, Oregon, and Washington. Some jobs took him to Washington DC to present information about various logging issues. His final position was as as Executive Director for the Western Wood Preservers Institute, headquartered in Vancouver, WA.

Two of Den's passions beyond family began in Richland. The first and obvious one was fishing. He grew up in a house that was about a hundred yards from the Columbia River, so fishing was ever present. The second avocation, arrowhead hunting and collecting, was more obscure. Den was fishing one day on the Columbia near the mouth of the Yakima River when he met a fellow who was digging for artifacts. The place where Den was fishing that day happened to be the location of historic native American camps. Den ask about the activity and the fellow, himself a member of the Yakima Tribe, was more than pleased to tell Den about it. With the help of his Dad, Den built the necessary equipment and started digging and collecting. It should be emphasized that this activity was fully legal and within the law at that time. It would not be today. A third activity that he picked up in later years was golf. He never considered himself to be an especially good golfer, but he did manage to twice get a hole-in-one.

Fishing was the central avocation that he followed through all of his life. In later years, he transitioned to fly fishing. While he enjoyed catching bass and large trout, he especially liked catching steal-head with fly gear.

Den and his brother shared a number of activities with their Dad, with one that stands out. This was the construction and flying of kites. We had the usual commercial kites, purchased at the local dime store, probably for a dime with another dime for some string. This quickly became boring, so our Dad suggested that we build a larger kite from scratch. The first one was a large version of a classic form, now built with 4 ft long sticks covered with package mailing paper. The sticks were cut from lath with a rip-saw. Lath was still available at lumber stores in the early 1950s. The ultimate creation was a triangular box kite with wings, which we learned in later years to be known as a "French Military Kite." It had such a strong pull that it sometimes took both of us to hold onto the line, especially in a strong wind. On one flying session at a field about a mile west of the river, the string broke, but Dad and the car were near. We hopped in and chased the kite, only to see it escape across the Columbia River where it finally landed in a farmer's field. We had to drive several miles to the only bridge across the river, and then follow back roads to finally retrieve our prized creation. We found stronger string after that incident.

When Den was in high school, he and a friend were wondering how they might make a few bucks over the summer. After all, college was looming. They purchased an old, beat up pick-up truck and got it working. They then started driving it to the mountains, about 100 miles from Richland. They would get a permit from the forest service and then cut downed timber and load it in the truck. Upon returning home they sold the wood to the folks at the north end of town who had homes with fire places, a rarity at that time.

We will continue to miss Denny, but will try to celebrate his character and entrepreneurial spirit. Just seeing our river will make us think of him.